We're Getting Mutants in the MCU - The Loop
Play Sound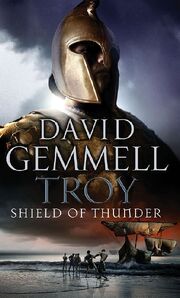 Troy: Shield of Thunder is a 2006 novel by British fantasy writer David Gemmell , forming the second part of his Troy Series trilogy.
This novel was released posthumously in September 2006, following Gemmell's death in July of the same year.
Backcover blurb: The war of Troy is looming, and all the kings of the Great Green are gathering, friends and enemies, each with their own dark plans of conquest and plunder. Into this maelstrom of treachery and deceit come three travellers; Piria, a runaway priestess nursing a terrible secret, Kalliades, a warrior with a legendary sword, and Banokles who will carve his own legend in the battles to come. Shield of Thunder takes the reader back into the glories and tragedies of Bronze Age Greece, reuniting the characters from Lord of the Silver Bow; the dread Helikaon and his great love, the fiery Andromache, the mighty Hektor and the fabled storyteller, Odysseus.
Plot summary
[
]
Helikaon, King of Dardania, and his unfulfilled love for Andromache, now wife of Hektor, continues to be the central theme of this novel. However, the story is dominated by two surviving Mykene warriors turned outlaws - Kalliades and Banokles -- who flee the wrath of Agamemnon, rescue a mysterious woman Piria (who turns out to be a runaway priestess, whose real name is Kalliope, and a royal princess). The three are themselves rescued by Odysseus, whose past is gradually revealed. Odysseus, like other kings, is headed for Troy to participate in the wedding celebrations of Hektor and Andromache. In the meantime, Helikaon has been seriously wounded by the assassin Karpophorus and only gradually returns to health. Andromache approaches Hektor, seeking an end to their engagement, only to learn a closely-guarded secret concerning his manhood. Her earlier visit to king Priam revealed a harsh truth, upon which she acts much later.
By the last third of the book, Troy is at war with Agamemnon and his allies. The Greek battleplan is rather different from that in the Iliad but makes sense historically. (Perhaps Gemmell was inspired by Mithridates or the Greek-Persian wars.) What happens next is a stunning set of reverses engineered by long-term planning and long-concealed treachery.